Pet Loss Care for Children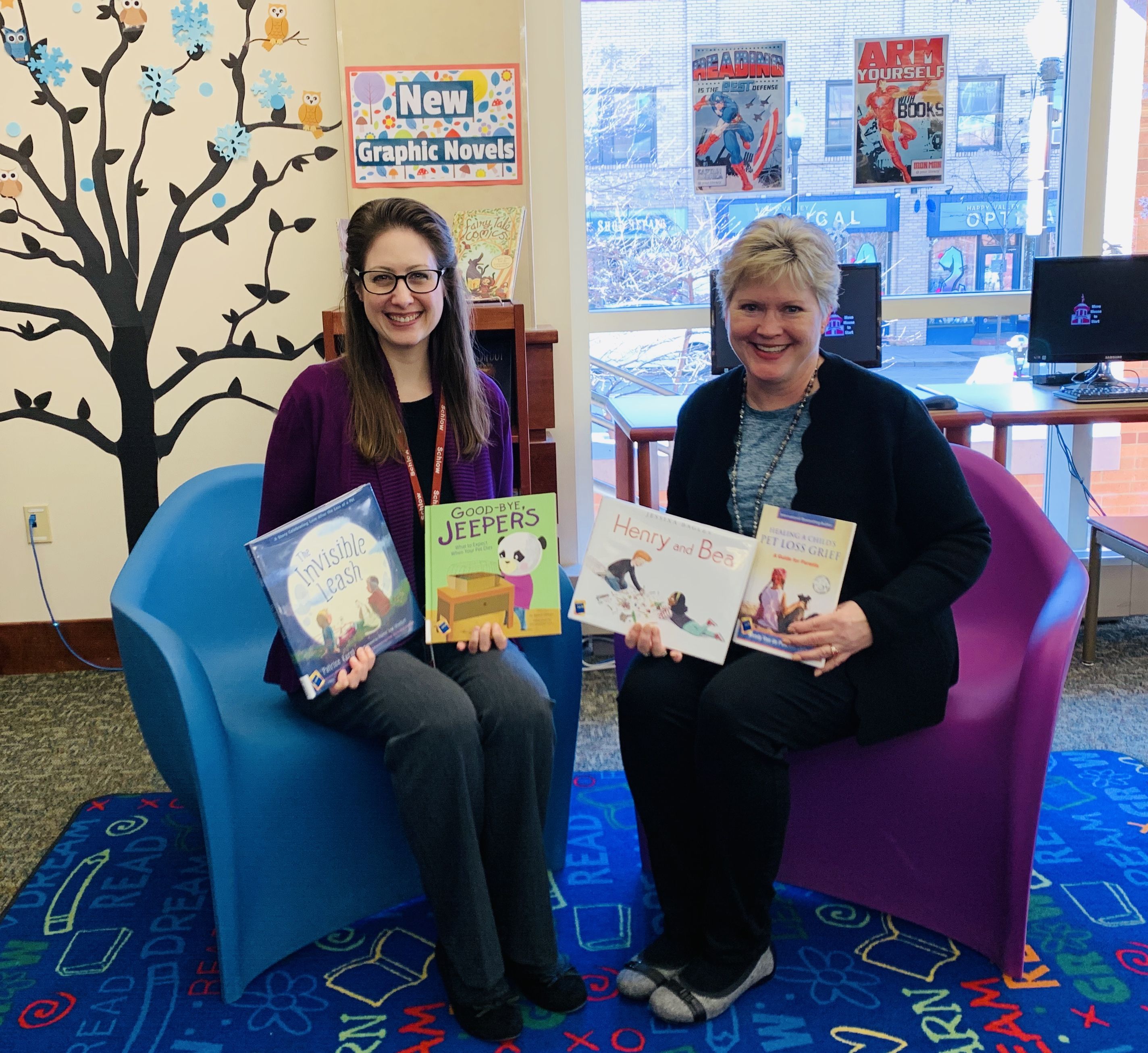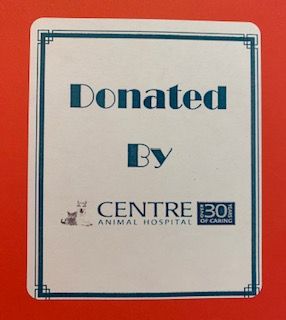 Centre Animal Hospital recently donated several books about pet loss to the children's collection at Schlow Centre Region Library.
The passing of a family pet is often a child's first experience with death and grief. Because pets live in our homes, and many of us treat them with the same care we do the humans we love, the passing of a beloved pet can be as real and traumatic for a child as losing a human family member or friend.

Although a parent's reaction may be to protect a child from grief, it is vital that we support, comfort and guide children through healthy grieving processes. Learning to experience and work through grief is an important life skill. It may be difficult, but ignoring it sends a message to a child that feelings are not important and should not be expressed.

Here is a picture drawn by a client's daughter after their Greater Swiss Mountain Dog passed away last year. It hung on our staff bulletin board, and we are grateful to Kerri and Kelsie for allowing us to share it with you. This is a lovely example of a child expressing the loss of a beloved animal companion.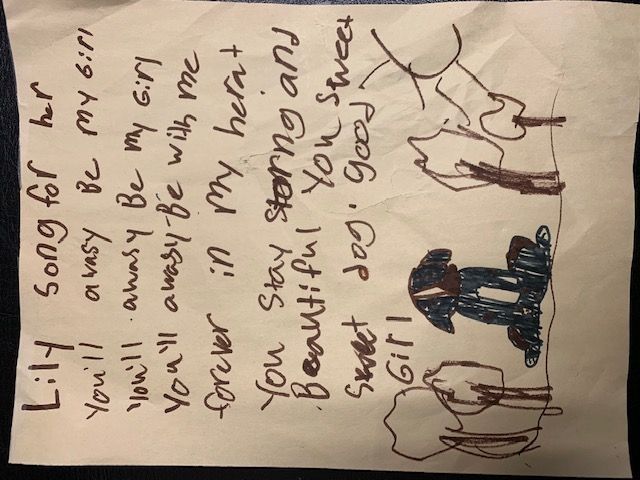 The following suggestions are all ways you can help a child work through the death of a beloved pet.
TALK. First and foremost, talk with your child about a pet who has died or who is growing old. It helps children to know that there will come a day when the pet will live in your heart and not your home. Be honest in your explanations. A more helpful approach may be to tell children that although the pet can no longer be with us, be seen or heard or felt, it still lives in your heart.

ART. Help children remember pets who have passed away with little projects, such as:

Draw or paint the pet in a happy time

Make a collage of pictures of the pet

Decorate a frame for a favorite photo of your pet

Paint a memorial stone to place in your garden or on a grave

Write a goodbye note to the pet

Write a song, poem or story about the pet.

Record memories in a special journal.

PLAY

Purchase a look-alike stuffed animal to help children remember the pet.

If a child needs to reenact the pet's passing, don't be alarmed. Reenacting the death may help children to process the loss. Talk with them about what happened and how it made them feel.

READ. One of the best ways to help children learn about loss is through age-appropriate books. If you have the opportunity to read a variety of books before a pet's passing, it gives a child an opportunity to process the experience and sort through the rituals that different families use to get them through a pet's death. Such books also serve as a conversation starter to talk about how your own family might handle losing a pet.
For families who lose a pet unexpectedly and do not have the chance to prepare children, books can be helpful to show children that many people grieve when their pets die, and that it's okay to feel sad and mad, that it's ok to cry for a while and then forget about it for a while and then to grieve again when they remember.

CHILDREN'S BOOKS: There are a number of books written to help children through pet loss. Below is a brief description of some of what we consider to be outstanding selections. Many are available locally at bookstores and your library or on amazon.com.

The following books are fiction stories written with the intent of comforting children and families struggling with grief. If you have a senior pet or one struggling with a potentially terminal illness, we encourage you to read some of these books with children to prepare them for the upcoming passing of their fur family member.

*Available at our amazing local library: Schlow Centre Region Library, 211 S Allen St, State College.
​​​​​​​

*The Invisible Leash: A Story Celebrating Love After the Loss of a Pet - Patricia Karst

"When our pets aren't with us anymore, an Invisible Leash connects our hearts to each other. Forever." That's what Zack's friend Emily tells him after his dog dies. Zack doesn't believe it. He only believes in what he can see. But on an enlightening journey through their neighborhood--and through his grief--he comes to feel the comforting tug of the Invisible Leash. Accompanied by tender. uplifting art by Joanne Lew-Vriethoff, bestselling author Patrice Karst's gentle story uses the same bonding technique from her classic book The Invisible String to help readers through the experience of the loss of a beloved animal.
​​​​​​​
​​​​​​​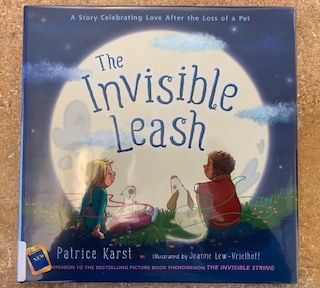 ​​​​​​​
​​​​​​​* Henry and Bea - Jessixa Bagley

Henry and Bea have always been inseparable...until one day Henry suddenly stops talking to Bea. He won't chat with her in class, and he won't sit with her at lunch. Bea can tell something's going on, and she's determined to find out what it is.But on a farm field trip, Henry finds an old cat collar and starts to cry. He finally reveals his secret to Bea: his cat Buddy died last week. Even though it's hard for them both, Bea knows that she'll be there for Henry, as his best friend, no matter what.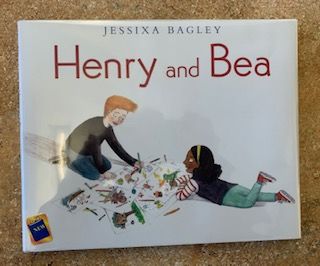 *Healing a Child's Pet Loss Grief - Wendy van de Poll

Written by a certified pet loss grief coach, this book for parents and caregivers covers specific topics relating to the grief process through which children journey.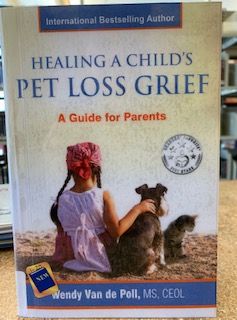 * Good-bye, Jeepers: What to Expect When Your Pet Dies - Nancy Loewen

When a pet dies, it can feel like you lost your best friend. What do you do? This story about a guinea pig's death also applies to cats, dogs and fish. Each page has a little section that explains the grieving process to children, that lets them know it's okay not to feel fine and what those feelings are called.

​​​​​​​
*Saying Goodbye to Barkley - Devon Sillett

Olivia and her dog Barkley are inseparable. When Barkley dies, Olivia is heartbroken. Slowly, she realizes that Barkley wouldn't want her to be unhappy for the rest of her life. She finds her own happiness and also gives happiness away when she adopts another dog from a shelter. Spud couldn't be less like Barkley, but Olivia grows to love her very much because she's just as special in her own way.​​​


*I'll Always Love You - Hans Wilhelm

"In this gentle, moving story, Elfie, a dachshund, and her special boy progress happily through life together. One morning Elfie does not wake up. The family grieves and buries her. The watercolor illustrations, tender and warm in color and mood, suit the simple text perfectly."--School Library Journal


*Dog Heaven - Cynthia Rylant

A comforting and playful look at a beloved pet's new life in Dog Heaven by an award-winning children's author. One of our staff favorites for all ages.


*Cat Heaven - Cynthia Rylant

An equally charming and comforting book by the award-winning author of Dog Heaven for those who have lost a beloved kitty.


*Badger's Parting Gifts - Susan Varley

All the woodland creatures—Mole, Frog, Fox, and Rabbit—love old Badger, who is their confidante, advisor, and friend. When he dies, they are overwhelmed by their loss. Then they begin to remember and treasure the memories he left them. Told simply, directly, and honestly, this uplifting story may be of tremendous value to both children and their parents. A gentle classic that can help foster communication, care, and understanding.


*The Tenth Good Thing About Barney - Judith Viorst and Erik Blegvad

After his kitty dies, the small boy who loved Barney can only think of nine. Later, while talking with his father, he discovers the tenth -- and begins to understand.


*The Day Tiger Rose Said Goodbye - Jane Yolen

A peaceful and inspiring book to help children and adults cope with the loss of a pet. The award-winning author gently focuses not on the death as much as the life in the last day of an older cat named Tiger Rose. Tiger Rose's kitten days are long gone and she's grown too tired to stay, so she says her goodbyes to all the creatures and the joys of her natural world—from the scolding blue jay to the dog and children that share her home. In a final vision, Tiger Rose takes one last leap into the blue sky and becomes one with all—the earth, the air, the sun. . . .a beautifully reassuring book.


*The Goodbye Book - Todd Parr

A hardback book book for toddlers. Through the lens of a pet fish who has lost his companion, Todd Parr tells a moving and wholly accessible story about saying goodbye. Touching upon the host of emotions children experience, Parr reminds readers that it's okay not to know all the answers, and that someone will always be there to support them.


*Saying Goodbye to Lulu - Corinne DeMas

A young girl loves her dog Lulu, and they are shown enjoying life together. Inevitably, Lulu passes away, and although the child is sad ad misses her, she learns that the memory of Lulu will live on in her heart.


*The Forever Dog - Bill Cochran

Mike and Corky are best friends; they do everything together. In fact they even make a plan. Mike tells Corky that they will always do everything together—forever. From one year to the next Corky is right there with Mike. Until one day, when Mike comes home from school and Corky isn't there . . . The story of how Mike comes to accept Corky's death forms a simple, poignant portrait of a special friendship that both celebrates the joys of owning a pet and becomes a heartfelt guide for anyone who is coping with the loss of a loved one.


The Rainbow Bridge...a dog's story - Judith Kristen

Henley, a rescued puppy mill sheepdog, became a therapy dog, a Reading Buddy, a Humane Education Ambassador, and the author of his very own book, "My Name is Henley: My life and times as a rescued dog." Although he passed away, his story continues. The dog comforts us once again - now from another place - helping those who have suffered the loss of a pet, and to give them a sense of closure.


Goodbye, Mousie - Robie H. Harris

One morning, a boy finds that his pet won't wake up. Mousie has died. At first the child doesn't believe it. He gets very mad at Mousie for dying, and then he feels very sad. But talking about Mousie, burying Mousie in a special bax, and saying goog-bye helps him begin to feel better about the loss of his beloved pet.


A Rainbow Bridge for Gus, by Barbara Bareis Rigabar

Gracie remembers the life of her dog and best friend, Gus. Includes a special memory page in the back for children who have experienced a loss to remember their own pet.


Paw Prints in the Stars: A Farewell and Journal for a Beloved Pet, by Warren Hanson

Paw Prints in the Stars was created to help one deal with the loss of a beloved pet. The book is written in the voice of the pet that has passed and brings peace and comfort while celebrating life and the lessons learned. There is a place for treasured photos and journal pages for favorite memories as well as a special ribbon to hold collar tags.


Forever Paws - Christine Davis

This enchanting book gives readers a glimpse into the joyful afterlife our pets experience, telling us that every animal we've ever loved takes a little piece of our heart when their time on earth comes to an end. In its place, they leave on our heart a print from a brilliant forever paw, a gift that will one day light our way back to the four-legged friend who loves us. Our critters may no longer be by our side but they are never far away. Forever Paws offers hope and healing to animal lovers of all ages who are remembering a treasured dog or cat companion.


While the books listed below are not strictly books about pet loss, adults may find comfort in them and/or may find them useful for helping children to understand and move through the grief associated with losing a furry family member.


The Memory Box: A Book About Grief - Joanna Rowland

From the perspective of a young child, Joanna Rowland artfully describes what it is like to remember and grieve a loved one who has died. The child in the story creates a memory box to keep mementos and written memories of the loved one, to help in the grieving process. Heartfelt and comforting, The Memory Box will help children and adults talk about this very difficult topic together. The unique point of view allows the reader to imagine the loss of any they have loved - a friend, family member, or even a pet. A parent guide in the back includes information on helping children manage the complex and difficult emotions they feel when they lose someone they love, as well as suggestions on how to create their own memory box.


Lifetimes: The Beautiful Way to Explain Death to Children ~ Bryan Mellonie

Lifetimes is a moving book for children of all ages, even parents too. It explains life and death in a sensitive, caring, beautiful way. Lifetimes tells us about beginnings, endings, and living in between. With large, wonderful illustrations, it tells about plants, animals, and people. This book presents birth and death as natural parts of life.

Anne Marie Rodgers has worked in emergency veterinary medicine, wildlife rehabilitation, and animal rescue. She is also the author of nearly 60 published novels and managed the Orphaned Kitten Program from 2010-2016. Centre Animal Hospital is her first foray into working in a "day" veterinary practice, and she is enjoying getting to know both clients and their pets on a regular basis.
©Centre Animal Hospital, 2020