Debra J. Smart, DVM
Dr. Smart is from Lancaster, Pennsylvania. She graduated from Princeton University and then earned her DVM at Colorado State University. She practiced in Colorado for 4 years and in Minnesota for 4 years before moving to State College with her husband, who joined the meteorology department at Penn State. Dr. Smart has practiced at Centre Animal Hospital since 2001, and with Dr. Calvert assumed ownership of the practice in 2017.

Dr. Smart lives with her husband, Ken Davis, and their three children in Warriors Mark. The family has a Portuguese Water Dog, white fluffy mutt, two cats, and three Morgan horses. Dr. Smart greatly enjoys all aspects of veterinary practice - preventative care, internal medicine, and surgery. She has special interests in dentistry and feline medicine. She treats pocket pets (guinea pigs, gerbils, and hamsters) and rabbits here at Centre Animal Hospital. Dr. Smart enjoys horseback riding, both dressage and trail riding, and traveling and camping with her family.
Renee Calvert, DVM​
Dr. Calvert knew from the beginning exactly what she was meant to do in life – she was in third grade when she decided to become a veterinarian, and she hasn't slowed down since. She developed her early love of animals into a profession where she can contribute to their wellness, aide in their healing, relieve their suffering and educate their owners all while continually learning and developing her skills.

Originally from near Allentown, PA, Dr. Calvert got her start raising Seeing Eye puppies. She later graduated from Penn State and went on to vet school at Purdue (where she was the top medicine and surgery student in her class). She worked at hospitals in Fairmont, WV and Somerset, PA before moving back to State College in 2000 to found her own practice – Mountain MobileVet. After 8 great years on the roads of Centre County, she was ready for a change, and was happy to join the staff of Centre Animal Hospital. She has a special interest in dentistry.

Dr. Calvert lives near State College with her husband Jeff, son Lucas, dog Nellie, and her sphynx cat Angelica. She enjoys trail running and is an avid fan of Penn State sports.
Mark F. Michelotti, VMD​
Originally from the Camp Hill area of Pennsylvania, Dr. Michelotti received his BS in Animal Science from Penn State University in 1979. He received his VMD at the University of Pennsylvania School of Veterinary Medicine in 1983 and was first in his class. After graduating, he moved back to State College because of his love for the area. From 1983-88 he practiced as an associate veterinarian at Animal Medical Hospital in State College. In February of 1988, he opened Centre Animal Hospital as a solo practice. Dr. Michelotti's veterinary specialties include orthopedics, ear, nose, and throat surgery, and canine reproductive services.

In his free time, Dr. Michelotti enjoys playing squash, fly fishing, fly-tying, bow hunting, and bird hunting with his dog, Jenna.
Diane Porter, DVM​
Dr. Porter was born and raised in State College and always wanted to be a Vet since she was 8 years old and stitched up her own injured rabbit. She attended Penn State University then went on to attend North Carolina State University and earned a BS in Animal Science and her DVM from the College of Veterinary Medicine in 2005. Dr. Porter joined Centre Animal Hospital when she moved back to the area in April of 2008 after practicing in Virginia for 3 years. Her interests include exotic animals, aquatic medicine and ultrasound. She recently finished an advanced course in abdominal ultrasound. Dr. Porter sees pocket pets (guinea pigs, gerbils and hamsters) and rabbits here at the hospital.

Dr. Porter lives with her husband, David, and three daughters, Breanne, Ella and Kelsey in Centre Hall. They have three cats, Brown Horse (named by the kids), Daisy and Thomas, two German Shorthaired Pointers, Drake and Gabriel (whose hobbies include chewing up the kid's stuffed animals whenever he can get them), 2 turtles, some salt water fish and chickens. She enjoys spending time in the outdoors and likes to hike, camp, kayak, and garden.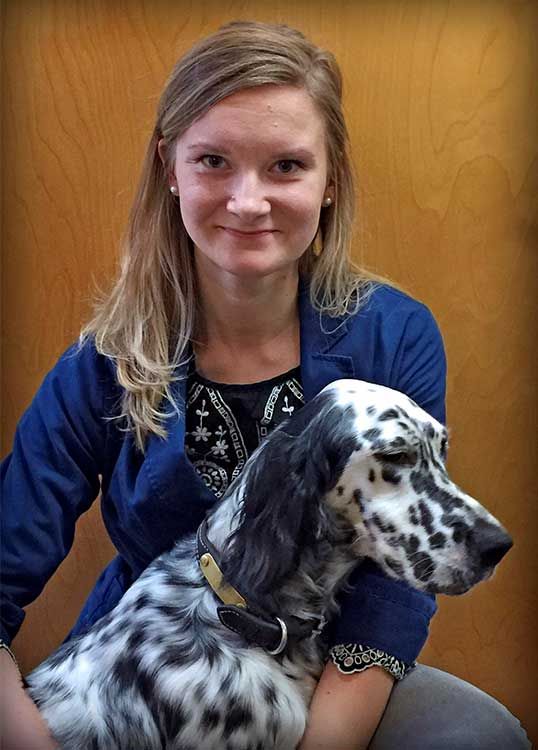 Sima Lionikaite, BVM​&S
Dr. Lion has lived in the United States and Europe and until recently called Scotland her home. She earned an Honors BSc in Zoology at the University of Aberdeen in Scotland. She went on to vet school and earned her BSc of Veterinary Medicine & Surgery from the Royal (Dick) School of Veterinary Studies at the University of Edinburgh. Dr. Lion has a passion for wildlife health and has worked with black bears and Scottish wildcats during her research projects. She was also the Country Representative for Scotland for the Student Chapter of the European Wildlife Disease Association. Before starting at Centre Animal Hospital, she completed a pathology externship at the USGS National Wildlife Health Centre in Madison, Wisconsin.
Dr. Lion enjoys dermatology, feline medicine and ultrasound (she hopes to get further training in ultrasonography next year). She is in the process of becoming Fear Free certified and also sees pocket pets (guinea pigs, gerbils and hamsters) and rabbits here at Centre Animal Hospital.
Dr. Lion lives in State College with her dog Pippin. She enjoys traveling, running, yoga and gardening.